Leatherman products continue to be innovative and always maintain the high level of quality we've come to expect from the company and the Surge is no exception.
The Leatherman Surge is probably one of our favorite multi-tools to date.
It's one of the two biggest multi tools made by the Portland-based company, and is easily one of our favorite tools we've reviewed. It is slightly larger than the standard multi tools that we're used to, but it's also significantly sturdier in design.
When it comes to the tools on the Surge, the fact that you don't need to fold one tool in to get access to the other tools is a huge plus in our book. In fact, the Surge can actually have up to four tools open at the same time, not that we recommend that, but it is possible. The Surge is a great multi-tool for having around the house, keeping in your pocket on the job, bringing with you on a camping trip, or just having at the bottom of your everyday carry bag.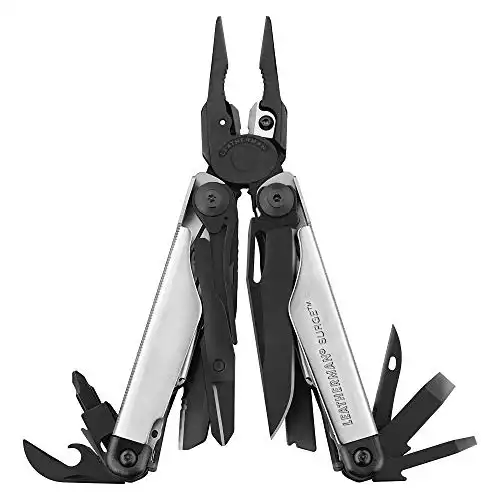 Leatherman Surge
The Surge is one of our largest multitools for heavy-duty use, built with our largest pliers, longest multitool blades and easy-to-use locks.
Buy from Amazon
Things we liked
Swappable parts
2 Pliers sets
Single-hand usage
Solidly built for daily use
Things we didnt like
Heavier than other multi-tools
Tool List (20 total)
Regular pliers
Needlenose pliers
Stranded wire cutters
154 CM replaceable hardwire cutters
154 CM replaceable wire cutters
Wire stripper
Electrical crimper
420 HC serrated knife
420 HC knife
8 inch ruler
Saw
Scissors
Awl with thread loop
Large bit driver
File with diamond coating
Metal/wood file
Bottle opener
Can opener
Screwdrivers (both small and large)
Blade exchanger
Build Quality
Like all the other full-sized multi-tools created by Leatherman, the Surge has also been built to withstand a high level of abuse. The multi-tool's frame lock (used for securing file, saw, and blades) has extremely impressive performance when used for stabbing and cutting motions. The only downside to the frame lock is that it is a magnet for pocket lint which can cause it to sometimes be a bit finicky when trying to unlock it (it's rare, but it happens). However, it shouldn't cause a big issue as whatever small grit and lint that gets into the mechanism can be cleared easily (thereby freeing the tool) by blowing on the narrow channel located at the rear of the lock.
The wire cutters included in Leatherman Surge are incredibly robust thanks to the 154 CM steel used their construction. Unfortunately, the knife blades on the tool switch up the steel and use 420 HC steel instead, which is still a good steel, but we would have preferred to have the 154 CM steel used on the blades as well. As for some of the other impressive tools on this piece, the pliers definitely stand out as being top notch. They can easily be rated among the strongest the market currently has to offer.
In regards to the look and field of the Surge, we found that after a few weeks it started to lose a bit of its aesthetic. However, despite the wear of the product itself, there were no indications of the tool not performing to its full capabilities for that entire time. The only thing we recommend, in order to keep the tool in peak form, is to inspect it for debris every once in a while, and be sure to keep the blades sharpened.
As we've mentioned, the Leatherman Surge is extremely durable and despite some cosmetic wear, the multi tool was made handle pretty much anything you can throw at it.
Things We Liked
The first thing we liked about the Surge is that it has been designed with sufficient future proofing. Should anything break you will be able to replace every key element that can become blunt after long-term use; these include the screwdriver bit, wire cutter, and blades.
As for the tools, one of the highlights of the Surge, in our eyes, is the inclusion of two different types of pliers. You will be able to access its narrow-nose pliers just by opening its handles out and the grip is extremely impressive due to the milled jaws. Opening the knives is also very easy; a flick of your thumb would be enough for opening both the standard and the serrated knives.
When shopping for multi tools you will come across several units that come packed with a series of blades, but most of them would let you down when it comes to performance. The Surge met all of our expectations and even exceeded them in some cases when it came to the tools. Each of the 20+ tools it carries is fully functional and designed with everyday carry in mind. We love it when our tools have springs loaded into them for ease of use.
The Leatherman Surge also scores big in the department of safety. All blades remain properly locked and there's no chance of them releasing suddenly and possibly cutting your unwary finger.
Things We Didn't Like
Individuals with smaller hands may struggle to use this tool. Its arms are slightly bigger than that of other pocket multi-tools available on the market, which can make it hard to open and close at times. You might also find the blade exchange system of the unit a bit strange when performing the initial cuts since the blade exchange system lets the blade flex more than what's required.
Another thing we didn't like about the product is its excessive weight. That's one reason why many people don't like using it as a portable unit. However, at 12.5 ounces, the Surge is still much lighter when compared to a regular tool box.
Conclusion
Overall, the Leatherman Surge would be a useful addition to your collection of tools. At the moment, you can usually find it priced below $100, which makes the deal a lucrative one considering the wide array of applications this multi-tool has. In addition to being made of high quality steel, the unit is highly durable. The only thing that might bother you a bit as a user is the size of the multi-tool. However, that doesn't interfere with its functionality.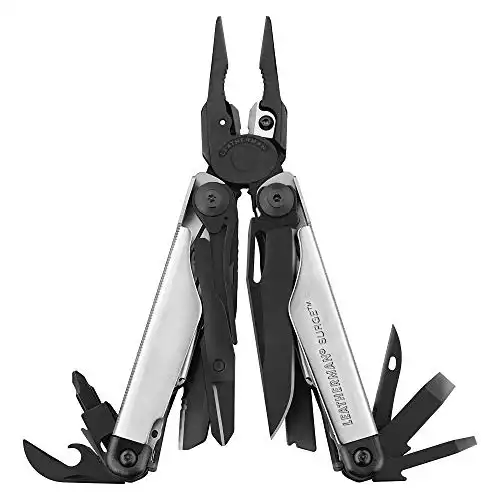 Leatherman Surge
The Surge is one of our largest multitools for heavy-duty use, built with our largest pliers, longest multitool blades and easy-to-use locks.
Buy from Amazon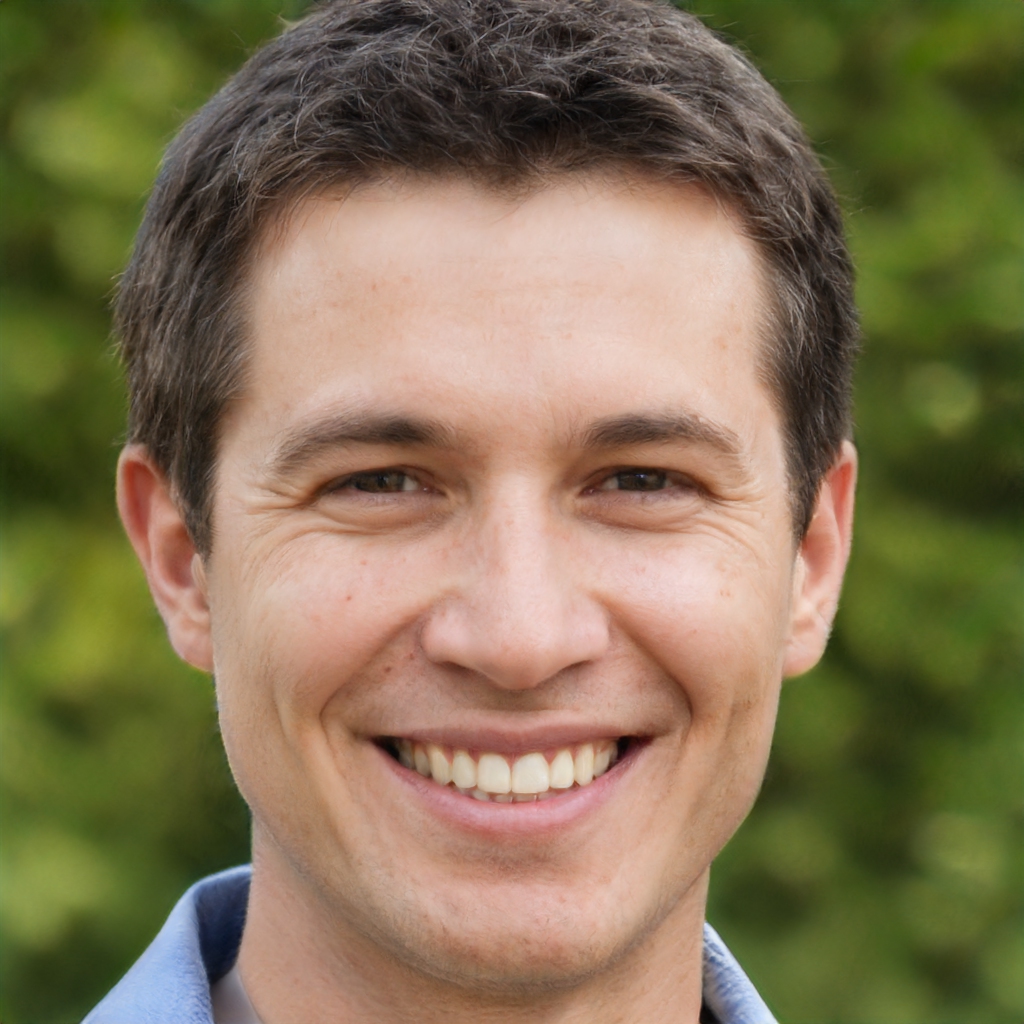 Zach Belmont has been working in the outdoor apparel industry in one form or another for over 20 years. During his career, he has worked at some of the most well-known adventure brands including Patagonia and The North Face in marketing, operations and product development. Zach currently lives in Wyoming with his wife and 2 kids.